Lehi professional moving company offers movers in Lehi and Utah County
Utah Moving with Lehi Movers
Get Free Moving Estimates To And From Lehi
These days there are few moving companies that provide Free Moving Estimates and Moving Connections is one of them. Moving Connections' instant online moving quote is one of the most reliable and accurate. Filling out our quick online moving quote is easy and straight forward. Moving Connections instantly emails you an accurate Moving Estimate. Your moving quote is tailored specifically to your weight and location. And don't be confused about moving quote and moving estimate. Among moving companies moving quote and moving estimate are used almost interchangeably.
Home And Office Movers in Lehi, Utah
When you're thinking of moving your residence, think of Moving Connections. Why? Because of our pricing, professionalism, and performance.
First of all, our pricing is not only fair and competitive, it's also very straightforward and uncomplicated: you pay for time (labor and some of the driving time), plus boxes and tape. That's it. You don't have to worry about taxes, fuel surcharges, equipment fees, and other phony charges because there aren't any with Moving Connections. Plus, our prices are probably the lowest for any shipper in Utah that is federally licensed, bonded, and insured, as we are.
A second reason for choosing Moving Connections is professionalism. We hire only experienced professionals for our moving teams. That's why we have the best moving crews in the state.
The third reason to choose Moving Connections is for performance. We have raised the bar for performing moves quickly and efficiently, yet safely.
Moving Connections' Lehi moving company makes each of our customers part of our moving family. We give you a moving experience you can trust. We load unload and transport you to your new home anywhere in Lehi and Utah County. No matter what, we will stick by you until your job is done, and you're happily settled in your new home. Which is why we are the top rated movers in Lehi Utah.
Full Service Long-Distance Movers in Lehi, Utah
Moving Connections is one of the best Long-Distance Moving Companies for moves to and from Lehi and the Western United States
To get moving help for your next relocation use our instant Lehi move quote or call (801) 532-6683 or email Moving Connections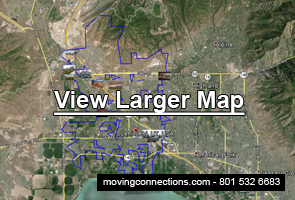 Utah Movers to and from other Utah Cities
Moving Connections is a local professional moving company that provides affordable rates for residents and businesses alike. We are not part of a sprawling national corporation that will charge you an arm and a leg, and then make you wait three weeks to have your goods delivered. Because we are small and local, we can respond to the needs of our customers much more promptly, and at a fair and honest rate.
Moving Connections is dedicated to bringing the highest level of local moving service to Utah families, individuals, and businesses. We are happy to provide you with straightforward, honest estimates with no added fuel surcharges, taxes, or equipment rentals. You pay for our 26 foot moving truck and laborers' time, plus boxes and tape, that's it.
Moving Connections offers two different services for residential and business moves: the conventional full service move, which can provide a great deal of peace of mind, or a labor only move, which allows you to provide the rental truck like Uhaul or Penske or a Trailer or POD, thereby saving you money.
Moving Connections, winner of many 'top rated mover' and 'best rated mover' awards since our beginning in 1981.
Movers.com has awarded Moving Connections with their coveted "Trusted Seal"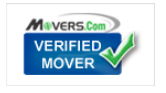 Moving Connections parent company has been selected 'Best Of Business' for 2018 by the Small Business Community Association.
Moving to Lehi Utah: Use these free moving resources

If Moving Connections is moving you to Lehi it's a perfect time to begin to utilize the many resources and bounties of Lehi. Click on the picture to the left and discover Lehi for the first time.
Moving to St George and other Utah destinations
Affordable Long-Distance Small Moves
Movers in Utah cities along the Wasatch Front