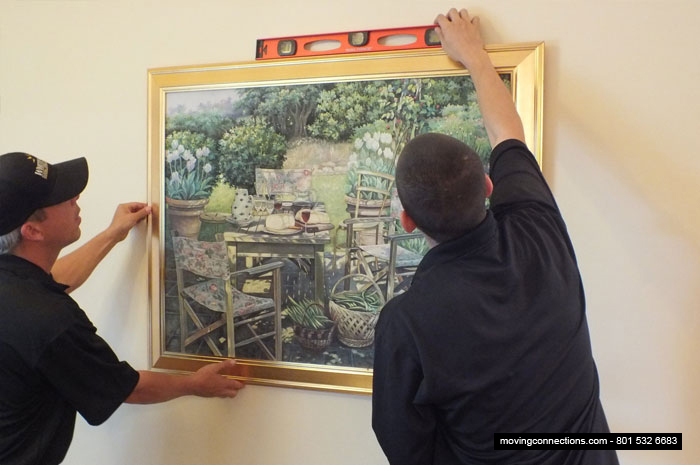 Among Moving Connections' professional crews there are personnel experienced in staging homes that are being put up for sale.

Staging a home simply means that you leave a few items of furniture here and there plus some other items to make it look more like a home than an impersonal, empty box. This helps your home to sell more quickly and at a better price for you, the seller.

Staging makes the house look far more personal, plus it gives the potential buyer a much better idea of how the place would look when they move in their chairs, pictures, mirrors, window dressings, rugs, etc.,

Staging has been shown to enhance home sellers' chances of success in selling their homes.

For instance, Coldwell Banker Real Estate Corporation found that staged homes usually sell for 6% above the asking price. And the National Association of Realtors found that a 1-3% investment in staging a home yielded an 8-10% return. So you're far ahead of the game when you make the investment to stage your home.

For this reason, Moving Connections provides home staging help as one of its added services.
How Movers Can Stage Your Home To Sell
Moving Connections understands that movers, no matter how good, are only incidental to your major family decision to buy, sell and move.

You definitely want to save money when selecting a moving company, but make sure you save hundreds or thousands, not ones and tens.

Here's how:

1. You Will Make More Money: Coldwell Banker Real Estate Corp. conducted a survey and found that staged homes usually sell for 6% above the asking price.

2. Your House Will Sell Faster: The National Association of Realtors (NAR) conducted a survey and found that the longer a home stays on the market, the lower the price it will bring.

3. You Will Get a Good Return on Your Investment: Another survey by NAR found that a 1 – 3% investment on home staging will usually yield an 8 – 10% return.

So, bring a reputable mover, like Moving Connections, to your side earlier in the sales process.

Moving Connections has been providing specific moving help and general moving services to stage homes not only for Realty Companies, but also home owners for nearly 35 years.

Moving Connections is a licensed moving company doing moves from Ogden in the North, Park City, Utah and Heber in the East, Tooele and Magna in the West and South through the Salt Lake Valley to Orem, Provo and Saint George.

Our moving company broke off from Shipping Connections as "Salt Lake City Movers," hanging pictures, moving furniture for carpet cleaning and replacement, moving and setting up jacuzzis, and moving whole households into storage during remodeling and construction. Our early motto was "Local Movers for Local Moving Needs." Our movers began helping people get more money from the sales of their homes throughout Salt Lake City, but a common theme customers asked was, can "Salt Lake City Movers" provide movers to Sandy or Draper, Alpine and Lehi, etc. The logical "move" was to change our moving company's name from "Salt Lake City Movers" to "Moving Connections." But we still help with all facets of moving and staging. Call us and see.
Delivery And Staging Services Throughout Utah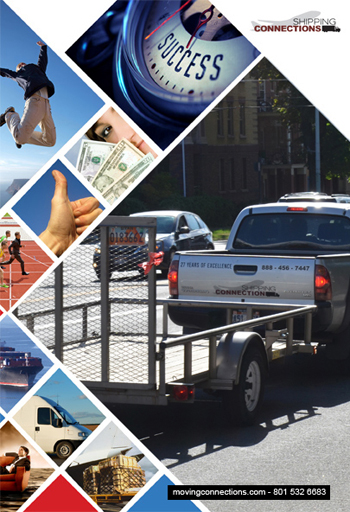 To most people "delivery service" is the person on a bike going in and out of traffic to deliver letter. But a full service Staging and Delivery company can ship, move and do a great many things.

When you are moving an entire home call a moving company. But when you need gun safe or a piano moved from one room to another or beds and furniture put together or weather stripping put on your doors and windows call a staging company, call us! (801) 532-6683

1) Moving companies normally don't move just 1, 2 or a few items, but we do. Our rate for 1 man and a truck is $65 per hour with a 1hr minimum. We can pick up from RC Willey, IKEA, etc. delivery it to your home and even set it up for you - set up a bookshelf or a desk or put a bed together. Hook up a washer, dryer or refrigerator. Take something to DI or Salvation Army or the City Dump.

2) Staging a home or condo to sell or rent is more than removing excess (i.e. clutter) furniture to make your abode look and feel more spacious. And by the way, we can take this excess furniture to your garage, storage or our storage unit.

Staging is also taking furniture and other items to Good Will or DI for you. Staging is making a dump run. Staging includes taking down wall hanging pictures and putting up new pictures or hanging them in new locations.

We pick up from RC Willey, IKEA etc. beds, entertainment centers and put them together. We replace burned out light bulbs, rug and furnace filters and door knobs. We vacuum out heating ducts and vents. We'll replace an old bathroom and kitchen faucet or fixture light. In many cases our staging and delivery services overlap and include handyman services.

3) Specialty item moving
a) High value item moved across the city or state
b) I tems picked up and palletized for shipment
c) Gun safe, piano, etc. moved around your home


Professional Moving Help And Truck Rentals