Utah Movers - Utah Statewide Moving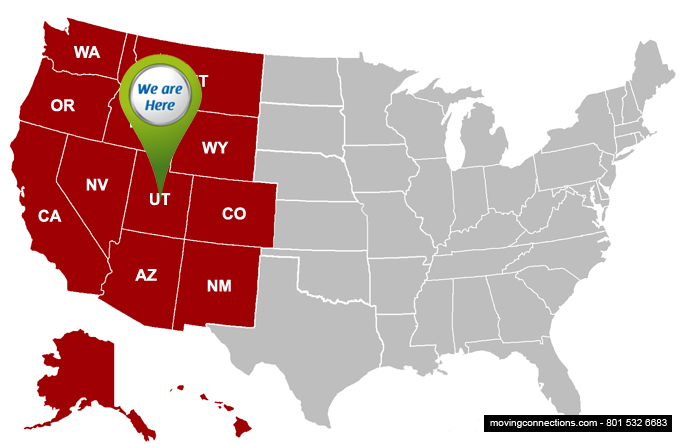 In 1981 when Moving Connections started doing moves in and around the state of Utah we only had 1 ½ million people in the whole state. Now, according to the 2010 census, we have about 2.2 Milliion people just along the Wasatch Front, which breaks down to 1.12 Million for Salt Lake County, ½ Million for Utah County, 295 K for Davis and 230 K for Weber and about 3 Million people in the State.

Strickly by the numbers it's easy to see why over 90% of our moves take place along the Wasatch Front. Still, we do jobs every month to the 4 corners of Utah. For Example:

A very common move that Moving Connections does on a weekly basis is a household move from somewhere along the Wasatch Front down to the Saint George area. For example we show up at your location, whether it's Ogden, Layton, Farmington, Riverton, Herriman, Syracuse, Bountiful, West Valley City, Salt Lake City, American Fork, Sandy, Orem, Provo, Park City, Cedar City, Utah etc. and pack and load your home, office or apartment on one day and the men stay over at their own homes that night. The next day we drive and unload at your location somewhere in the St. George area, whether that be Hurricane, Ivins, Washington, Kanab etc.

Most people want to be able to budget and know what their costs will be instead of having an open ended unknown cost. So we at the Moving Connections have put together a package deal of $2350. This is an out-the-door price so you don't have to worry about extras arising at the conclusion of your job.

We use a professional moving truck with a box length of 26 feet and a width of 8 feet and a height of a little over 8 feet. The approximately 10,000 pounds that this truck handles will usually tackle up to a 3 bedroom home which is 95% of the moves made. There are even ways that Moving Connections can help you with even larger loads. Just give us a call and let us show you how to make your move a successful and satisfying transition.

Moving Connections is top rated a federally licensed, and insured full service moving company. We are based in Salt Lake City Utah and have been providing Utah residents and businesses with professional shipping and moving services for more than thirty years.
Moving to St George with Salt Lake City UT best rated movers - Moving Connections
Moving to Moab with Salt Lake City UT movers - Moving Connections
Moving to Cedar City with Salt Lake City UT movers - Moving Connections
Moving to Salt Lake with Salt Lake City UT best rated movers - Moving Connections
Additional Utah Moving Services:

Senior Moving Services
Moving Connections is committed to providing the highest level of service in helping our seniors transition to a new home. Whether to an assisted living community, or to a private home or apartment, Moving Connections will make your loved one's move a comfortable and pleasant one.

Packing And Unpacking Moving Services
Our professional packing team brings the packing materials – stretch wrap, boxes, bubble wrap, tape, etc. – and you relax while we package your items the right way. Whether it's china, or clothing, or utensils, or a chandelier, our expert team will pack it so that it arrives at its destination safely. Packing Supplies

Buy Boxes And Supplies from Your Authorized U-Haul Dealer Moving Connections
Wow! If you need boxes, we've got boxes! Moving Connections has the most extensive selection of boxes and packaging supplies for moving that you could hope to find. With on-hand inventory of more than 100 different sizes of moving boxes, including specialized boxes such as wardrobe boxes, guitar boxes, ski boxes, etc., we excel as providers of packing supplies. We also have cargo straps, stretch wrap, moving blankets and pads, Styrofoam peanuts, and everything you could think of for your move. SUPPLIES
\

Storage
We at Moving Connections realize that some of the best-laid plans can be frustrated by circumstances beyond one's control. This often occurs in the form of a delay in closing or some other last second change. This can leave you "out in the cold" for a few weeks as you have to leave your old home, but can't move into your new home yet.

While you might quickly find temporary lodgings for yourself, finding a place for your household goods is another problem. That's why Moving Connections features short term storage options for those who find themselves in a predicament like the one above.

You can store your items at reasonable rates for a short term while you attend to the details of your delay. We even have cold and climatized storage for items requiring this level of care. So if you're thrown a last minute curveball in your moving plans, don't worry, Moving Connections has you covered.

Free Included Services
NO FUEL CHARGES, FREE STRETCH WRAP, FREE USE OF PADS AND BLANKETS, NO EQUIPMENT CHARGES, FREE STAIRS, FREE ON-SITE ESTIMATE FOR INTERSTATE MOVES, FREE LONG CARRY, FREE MATTRESS WRAPPING, WE MOVE ALL PIANO SIZES, FULL AND PARTIAL PACKING SERVICES, FULL SERVICE MOVER NOT A BROKER, TOP TIER MOVING CREWS, FRIENDLY AND PROFESSIONAL
Make sure to also visit Utah Moving Hot Spots
Make sure to also visit Affordable Long-Distance Small Moves
Make sure to also visit Local Movers Throughout Utah