Moving company offering moving services and local movers in West Valley City Utah
West Valley City Movers does both local and long distance moving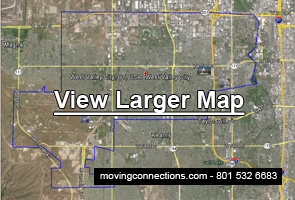 West Valley City, UT Movers - Moving Connections
If you're looking for a top tier professional moving company serving West Valley City, then consider our commitment to your successful move.
And if you're looking for a West Valley City moving company that provides professional moving services both locally and throughout the State of Utah with an affordable price, check us out. West Valley City movers most popular service, however, is our Full Service Residential Move.
Our moving team still wraps and loads the truck, especially the large, heavy, and fragile items, but customers can pack many of the household items themselves. We are also serious business movers.
Moving to West Valley City Utah: Free moving resources

If we are moving you to West Valley City it's a perfect time to begin to utilize the many resources and bounties of West Valley City.
Free West Valley City Moving Estimates
When you need help moving to West Valley UT, our top rated West Valley movers go beyond providing a helping hand and handle all aspects of your moving job from start to finish, yielding moving estimates you can rely on!
Residential Movers in the West Valley City do both full service and labor only moving jobs.
If you're considering a move to or from West Valley City, there are a few things you should consider when selecting a moving company.
We have handled business transitions from a small office move in the same building to a large multi-truck, mutli-crew, multi-day total corporate relocation. With experience like this, it's easy to see why we have emerged as a top flight local moving service in Northern Utah.
Affordable Long-Distance Small Moves
Movers in Utah cities along the Wasatch Front