Moving Connections is your professional moving company offering superior moving services and local movers in Murray, Utah
Get an instant Moving Quote online and have this free Moving Estimate emailed to you
These days there are few moving companies that provide instant and free moving estimates and Moving Connections is one of them. From all the options out there, Moving Connections' instant online moving quote is one of the most reliable and accurate. Filling out our quick online moving quote is easy and straight forward. Moving Connections instantly emails you an accurate Moving Estimate. Your moving quote is tailored specifically to your weight and location. And don't be confused about the differnce between moving quote and moving estimate. Among moving companies moving quote and moving estimate are used almost interchangeably for local moves. Get Your Free Moving Estimate
Moving Help: Loading and unloading services in Murray
Although our most popular service is the full service move, residential or corporate, Moving Connections does offer a potentially cost-saving service known as "labor only moving help". Moving Connections allows you to hire moving help by the hour to load and unload your rental truck, POD, Uhauls and Penskes. The Moving Connections crew will also professionally wrap your furniture and other such items with stretch wrap and moving blankets for their protection.
Residential Movers in Murray, Utah
Moving to another home can be a very stressful event. Or it can be a seamless transition to a new location. A local Murray professional moving service like Moving Connections can make it the latter of these two options.
You have enough to be concerned about with stopping services at your old residence and transferring them to your new one, or wondering whether you'll get along with your new neighbors, or how your children will adjust to the new school and new schoolmates. Plus a thousand and one other matters. So your plate is full.

Let Moving Connections provide a full door to door moving service for you so that your relocation can be a peaceful transition. We are experts at local moves along the Wasatch Front and throughout Utah. Our crews are made up of experienced professionals, and Moving Connections has a current federal motor carrier number, meaning that we are federally licensed, bonded, and insured. So we're professionals.
Full Service Long-Distance Movers in Murray, Utah
Moving Connections is one of the best Long-Distance Moving Companies for moves in Utah and the Western United States
To get moving help for your next relocation use our instant Murray move quote or call (801) 532-6683 or email Moving Connections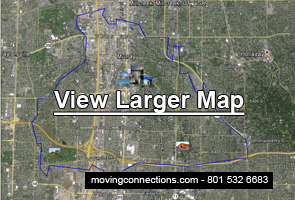 Utah Movers in other Utah Cities
Local Movers in Murray, Utah. If you're looking for a Murray moving service, then consider the following: Moving Connections has been providing moving and shipping services to Northern Utah residents for more than thirty years. Moving Connections hires only experienced professional moving crew members. Moving Connections is not only federally licensed, but we are also bonded and insured in accordance with federal regulations. That might make us sound like some giant, impersonal corporation with its headquarters in some far-off state. But nothing could be further from the truth. In fact, Moving Connections – although it provides big service – is in fact a modestly sized company that is attentive to customers, whether they have small or large moving needs. And we don't throw your goods into a fifty three foot trailer along with a half dozen other customers' goods, then wait two weeks to ship it, then charge you thousands of dollars like the huge companies do. We load our twenty-six foot trucks with your goods and your goods only, and then go immediately to the destination of your choice.

Moving Connections, winner of many 'top rated mover' and 'best rated mover' awards since our beginning in 1981.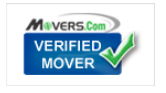 Movers.com has awarded Moving Connections with their coveted "Trusted Seal"
Moving Connections parent company has been selected 'Best Of Business' for 2018 by the Small Business Community Association.
Moving to Murray Utah: Use these free moving resources

If Moving Connections is moving you to Murray it's a perfect time to begin to utilize the many resources and bounties of Murray. For example click on the picture to the left to go the Moving Connections 'Get moving help and support in Murray Utah' page and discover Murray for the first time.
Moving to St George and other Utah destinations
Affordable Long-Distance Small Moves
Movers in Utah cities along the Wasatch Front