Moving Connections is your professional moving company offering superior moving services and movers to and from St George, Utah
St George UT movers - local and long distance moving company
click here for a Map of St George Area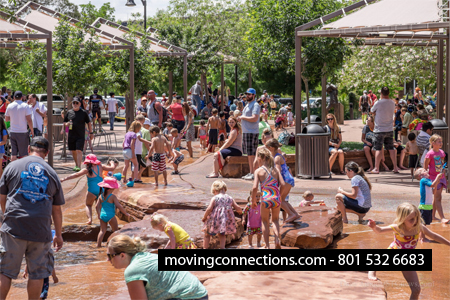 Long-Distance Movers to and from St George, Utah
Full Service Moving to St George Utah - Moving Connections is one of the best Long-Distance Moving Companies for moves in Utah and the Western United States. Our top rated moving company also has moving services to the surrounding cities including Washington UT, Hurricane UT, Santa Clara UT, Ivins UT, Kanab UT.
Long-Distance Full Service moves between St George and Salt Lake City are a Moving Connections specialty. For a complete package deal of $2350 Moving Connections will pack and load your home or/and your office anywhere along the Wasatch Front and drive to the St George area and unload your household and office belongings the following day into your home or office.
Start your next St George move with a moving estimate. Moving Connections has Full Service Movers to and from St George, any city in Utah and throughout the Western United States
Our St George UT movers are a licensed household goods carrier. We perform interstate moving services from Utah to anywhere in the Western US, or from and to any other combination of states. Moving Connections experienced team can get you there.
Our St George moving and storage company in Southern Utah is your first and best relocation choice. We are a professional moving company offering the best value and affordability on all your your moves to and from St George Utah. Our St George movers offer long-distance moving services throughout Utah and the Western United States. Our movers have decades of experience and are trusted throughout Southern Utah to provide a stress free and guaranteed safe and reliable moving experience. Use our instant and free moving estimate today to move you tomorrow.
Whatever your reason for moving to St George, you may feel stressed and overwhelmed at the prospect of relocating far from your current home. If you're relocating to St George from anywhere in Utah Moving Connections is here to support you every step of the way.
Find The Best Utah Movers in other Utah cities
Movers to and from St George and throughout Utah
Why you should select our St George moving company with so many moving companies to choose from?
Moving Connections has the lowest rate in St George, Utah, for all Long-Distance moving needs. We have the lowest moving rate in Utah for St George to Salt Lake moves. In fact no one can match our price, timing and quality for all Long-Distance moves anywhere along the Wasatch Front to Saint George, Utah. Moving Connections has no fuel surcharges or taxes or other hidden charges.
Our full service moving company Moving Connections based in Salt Lake City specializes in moving snowbirds to St George and other Utah "hot spots". In recent years, our St George Movers also noticed that younger people with jobs tied to seasonal tourists often migrate southward, following the tourist season to southern resorts. Some are also business owners who have a second home in a warmer location or whose business Moving Connections can easily move to or from St George.
You can use our map to view the boundaries of St George and surrounding areas in Utah that we proudly serve. If the origin or destination of your move is within 50 miles of St George, Moving Connections will give you the best value of any professional moving company within the state of Utah.
To help your Saint George move go smoothly, please let us know if you prefer a full service move (we box and package your items), or if you are going to box and pack your belongings yourself (this is called a customer pack move). If you are going to box your items yourself, please make certain that this is completed prior to the arrival of our moving crew.
Get A Free And Instant St George Moving Estimate
These days there are few moving companies that provide "Get A Free And Instant Moving Estimate" and Moving Connections is one of them. Our St George UT instant and free online moving quote is the best in the moving business. Our Saint George UT quotes are binding estimates i.e. "fixed price" on our St George Long-Distance Moves. Get Your Free Moving Quote
To get moving help for your next relocation use our instant St George move quote or call (801) 532-6683 or email Moving Connections
Affordable Long-Distance Small Moves
Long-Distance Moving Throughout The Western United States
Movers in Utah cities along the Wasatch Front