Professional moving company offering superior moving services and local movers in Herriman, Utah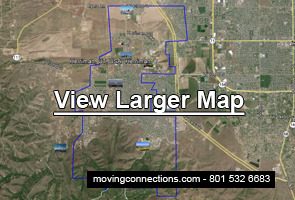 HERRIMAN, UT MOVERS - Best Herriman Moving Company
If you're looking for a Herriman moving company check us out.
And our Herriman moving rates are the best in the moving business.
We are one of the top moving and moving service companies in Herriman UT striving to serve our customers with varying plans to fit different budgets for our Herriman residential moves.
Moving to Herriman Utah: Use these free moving resources

If Moving Connections is moving you to Herriman it's a perfect time to begin to utilize the many resources and bounties of Herriman. For example click on the picture to the left to go to the Moving Connections 'Get moving help and support in Herriman Utah' page and discover Herriman for the first time.
Free Herriman UT Moving Estimates
Get Your Free Moving Estimate
Labor Only Moves in Herriman, Utah
Our Herriman Utah moving company has offerd moving help and handled business moving relocations from a small office moves in the same building to a large full service corporate relocations. With experiences like these, it's easy to see why Herriman movers has emerged as a top local moving service in Utah.
Full Service Long-Distance Movers in Herriman, Utah
Our Herriman Utah moving company is one of the best Long-Distance Moving Companies for moves in Utah and the Western United States
To get moving help for your next relocation use our instant Herriman move quote or call (801) 532-6683 or email Moving Connections
Moving to St George and other Utah destinations
Affordable Long-Distance Small Moves
Movers in Utah cities along the Wasatch Front