Ogden proffesional moving company with movers in Ogden and throughout Weber and Davis counties.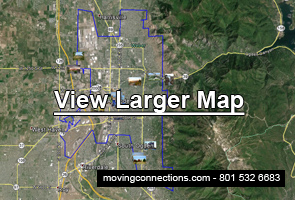 Ogden Utah Movers is who we are Ogden Moving is what we do
Local Movers in Ogden, UT. Referrals and repeat customers are what made our movers the premier Ogden, Utah residential and office moving company.
If you're looking for an Ogden, Utah moving company that provides professional moving services both locally and throughout the State of Utah without the outrageous price tag, check us out.
Free Ogden, Utah Moving Estimates
We instantly email you an accurate Moving Estimate.Get Your Free And Instant Moving Estimate
Labor Only Moving Help in Ogden, Utah
Moving Connections is the top rated moving labor services company in Ogden, UT moving customers in the Ogden area for over 30 years. Our Ogden, Utah moving company allows you to hire local moving helpers by the hour to load and unload your rental truck, PODs, Uhauls and Penskes.
Top 6 reasons to choose our Ogden, UT movers with so many moving companies to choose from
We are a Utah local moving company. We started in Salt Lake City in 1981 have been supporting Utah businesses and families ever since.
We have a proven track record of being the best movers in Ogden Utah. We have been providing Utah with high quality household movers and office movers in Ogden, UT and along the Wasatch front for over 35 years.
Moving Connections has an excellent reputation in Ogden, UT for being the best moving company and having hard working, friendly movers who are consistently among the top rated movers in Utah. Our moving company customer reviews speak for themselves.
We are a BBB A+ rated professional moving company.
Moving Connections has the lowest cost for Ogden moving services using 2 movers and a truck with blankets, tools, stretch wrap and dollies.
We offer moving help at $110 per hour for 2 movers and their equipment to pack, load, unload, stage, or relocate items within the same building.
To get moving help for your next Ogden, UT move call 801. 532. 6683
Moving to Ogden Utah: Use these free Ogden moving resources
Ogden, Utah Library Ogden, Utah Parks and Recreation Ogden, UT City Services Business Opportunities
Ogden movers is one of the best Long-Distance Moving Companies for moves in Ogden, Utah and the Western United States
To get moving help for your next relocation use our instant Ogden move quote or call (801) 532-6683 or email Moving Connections
Moving to St George and other Utah destinations
Affordable Long-Distance Small Moves
Movers in Utah cities along the Wasatch Front