Moving Connections is your professional moving company offering superior moving services and local movers in West Jordan, Utah
Professional Moving Company in West Jordan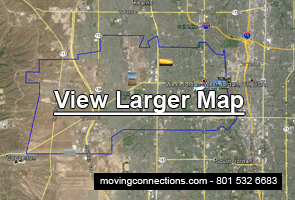 Utah Movers in other Utah Cities
Moving Companies: Why should you select Moving Connections with so many moving companies to choose from?
1) Moving Connections is a federally licensed and insured moving company.
2) Moving Connections uses our own full time professional movers, never part time or temporary help.
3) Moving Connections has the lowest rate in West Jordan, Utah, for a licensed company at $95 per hour, every day. Moving Connections has no fuel surcharges or taxes or other hidden charges.
Since most of our moves are done within 100 miles of Salt Lake City, much of this website is devoted to local moving. In addition to general moving services, we also offer a complete line of moving supplies. We also offer special item moving services for items such as gun safes or pianos.
You can use our map to view the boundaries of West Jordan and surrounding areas in Utah that we proudly serve. If the origin and destination of your move are within 100 miles of West Jordan, we will give you the best value of any professional moving service within the state of Utah.
To help your move go smoothly, please let us know if you prefer a full service move (we box and package your items), or if you are going to box and pack your belongings yourself (this is called a customer pack move). If you are going to box your items yourself, please make certain that this is completed prior to the arrival of our moving crew.
If you want to use your own rented truck to move your goods, but still would like trained and experienced professional movers to wrap, pad, and load your truck, we can do a labor only move.
With a labor only move, we send two or more professional movers to stretch wrap your furniture and then pad it with quilted blankets (which you can purchase from us) and load it and secure it professionally on your moving truck. Then we will package your other items and load them on your truck in a professional manner.
Please be certain that you rent a truck that is large enough to accommodate all your belongings.
It is also best if you "break down" your beds before the arrival of our crew in order to save time.
You can also use a labor only move to just unload a truck or POD at your destination.
On the other hand, if you prefer the full service move, we will send two professional movers in a full sized 26 foot moving truck complete with 100 blankets, stretch wrap, boxes, wrapping paper, plus tools, equipment, dollies, piano boards, and whatever other moving supplies are needed to do the job. Our professional movers will stretch wrap and blanket wrap all your furniture (including pianos), and then we will package all your other items and load them on the moving truck.
Moving Connections also offer a full line of high quality professional moving supplies that you can purchase at excellent prices.
Also, we at Moving Connections stock more than 100 different sized moving boxes, plus special purpose boxes for moving your items safely; high quality tape; also, bubble wrap; wrapping paper, foam peanuts, plastic covers for professionally moving mattresses and box springs of every size; quilted blankets and thick felt pads specially designed for professional moving; and stretch wrap to protect the finish of your furniture.
West Jordan Moving Estimates
Office Movers in West Jordan
Labor Only Moves in West Jordan
Residential Movers in West Jordan, Utah
Full Service Long-Distance Movers in West Jordan, Utah
Moving Connections is one of the best Long-Distance Moving Companies for moves in Utah and the Western United States
Affordable Long-Distance Small Moves
Long-Distance Moving Throughout The Western United States