Residential And Office Movers in Salt Lake City Utah
Moving Connections is a professional moving company and has its roots firmly planted in Utah. We are sensitive to our customers' needs and know that moving can be such a stressful time. That's why we at Moving Connections do all in our power to make your residential and office moves a smooth transition to your new location.
When it comes to residential moving, nobody does it better than Moving Connections. With over three decades of experience in the moving business, Moving Connections has been shown to be among the Best Of Utah Moving companies. For the best Salt Lake County move you have ever had try our Salt Lake City movers. We also move to Utah cities in Davis County and Utah County. Our movers are well-trained on the best practices to ensure your household belongings are kept safe from beginning to end during the entire moving process.
Moving Connections top rated movers will make sure to pad and stretch wrap each of your items before securely loading them onto our 26 ft. moving trucks. That's why Moving Connections hires only those with considerable moving experience. Our cheerful, motivated crew members know how to move quickly and efficiently, yet safely.
Our customers deserve a company that is professional and in business for real. So Moving Connections – although it's not required for local moves – is a federally licensed carrier, bonded and insured in accordance with federal guidelines. Moving Connections is named the Best Mover in Utah.
Moving Connections also offers the most straightforward pricing in the moving business: you pay for time (driving and labor) plus boxes and tape. You don't get stuck with a bunch of added fees at the end of your move that can drive up your anticipated price by twenty-five, thirty-five, or even fifty percent.
And speaking of pricing, Moving Connections has a moving plan for the budget conscious. With this plan, you can do most of the packing yourself, reducing the expense of labor time. Our crew will just handle the heavy items and the loading of the truck for you, so you save money.
To speak with a service representative, just give us a call (801) 532-6683 or email us at support@movingconnections.com
Full Service Residential And Office Movers
Moving Connections – A Local Professional Moving Company You Can Trust
Apartment moving can be tricky, but we're more than ready to tackle the heavy lifting (and stairs!). From getting familiar with your building's rules and regulations to reserving elevators, parking, and more – we have years of experience in moving customers to and from apartment communities.
Whether you're on the first floor or in a high-rise, our professional movers are trained to navigate tight corners, stairs, and anything else that comes with apartment moving. Moving Connections will make sure your items are moved safely and securely without causing any damage to your belongings or apartment!
FULL SERVICE
Minimum Hours are generally higher during peak summer months and lower during the winter. You can check the minimum for your move date by getting an online moving quote or see below:


Summer rates for 2 men and a truck between 05/26 - 10/15 : $139/hr and 4 Hrs Min
Fall rates for 2 men and a truck between 10/16 - 12/15 : $129/hr and 3 Hrs Min
Winter rates for 2 men and a truck between 12/16 - 03/15 : $119/hr and 3 Hrs Min
Spring rates for 2 men and a truck between 03/15 - 05/25 : $129/hr and 3 Hrs Min

Note: Additional men $45/hr
When you book with us your spot is automatically secured on our calendar
Labor Only
Summer rates for 2 men between 05/25 - 10/15 : $110/hr otherwise $110/hr
SUNDAY RATE
is $138 per hour for 2 movers and a 26 foot moving truck to cover the double time wage we pay the men for Sunday work.
Labor Only Residential And Office Movers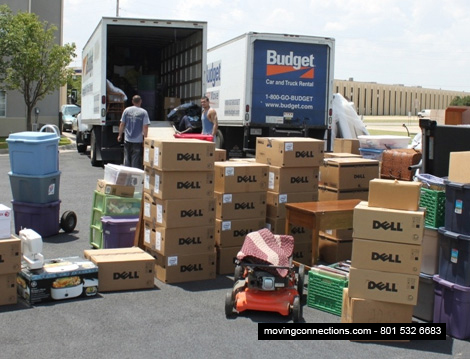 Moving Connections – A Local Professional Moving Company You Can Trust
We at Moving Connections know that times are hard and budgets are being stretched to their limits. That's why we offer a budget conscious "labor only" move.
In a labor only move, Moving Connections provides the expertise and the muscle, and the customer provides the "sweat equity".
To be more specific, you provide your own truck and driver (customers usually rent a truck) and you pack most of the goods yourself, while our professional moving team tackles the very heavy items and the large and very fragile things. Our Moving Connections team also loads the truck according to the highest moving industry standards.
This means that you save a lot of money on labor since you do the lion's share of the packing. And you drive the truck to your new location and unload it. All this means big savings to you since it can shave hours off our crew's labor time.
To learn more about the labor only option, please give us a call (if you're on a smart phone, you can just click here), or send us an email. We'll be happy to discuss this option with you and even give you a "quick quote" as to how much your move would cost.
LABOR ONLY
Our pricing is $110/hour* for 2 professional movers and dollies.
We run 3 moving crews which start from our 412 E 300 S, SLC store. Morning jobs start about 7:45 AM. Your time starts when we leave our office and ends when we unload the last piece off the truck. Said another way you pay to get us to you and we pay to get ourselves home.
* 4 hour min. charge in Summer and 2 hour min. charge in Winter
HOUSEHOLD AND OFFICE STORAGE AVAILABLE
Min Monthly Storage Fee: $125 up to 10' x 10'
Up to Three Bedroom Home: $240/month 10' x 20'