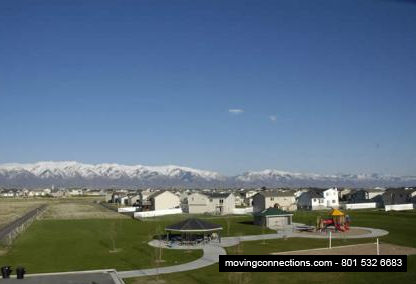 Moving can be less fun than a root canal or it can be a seamless transition to a new location. It all depends on which moving company you hire.

Moving Connections is a local professional moving service with a thirty year proven track record in the moving business. We are consummate professionals who are federally licensed, bonded, and insured. We hire only the best, experienced professionals to produce some of the best moving crews in the Intermountain West.

Moving Connections also has the simplest and most straightforward pricing with no add-ons for things such as fuel surcharges, taxes, blankets, pads, stretch wrap, or equipment fees.
These days there are few moving companies that provide Get A Moving Quotes and Moving Connections is one of them. Whether they are accurate or not, we don't know, but one thing is for sure - from all the options out there, Moving Connections' instant online moving quote is one of the most reliable and accurate. Filling out our quick online moving quote is easy and straight forward. Moving Connections instantely emails you an accurate Moving Estimate. Your moving quote is tailored specifically to your weight and location. And don't be confused about moving quote and moving estimate. Among moving companies moving quote and moving estimate are used almost interchangeably. Get Your Free Moving Estimate
Although Moving Connections is a Moving Company offering a cost saving "Labor Only" option, the full service residential move remains our most popular service. There are probably several reasons for this but perhaps the main one is the peace of mind that comes with letting the professionals handle all the details of your move.

And since Moving Connections is federally licensed, bonded, and insured, that adds another layer of security.

Moving Connections also offers a number of moving-related support services, such as home staging, handyman repairs, climate controlled storage, and others.

In other words, Moving Connections is a very professional moving company without the very big prices that you will pay with some of the large national chains. We're big enough to be professional, but small enough to be personable and responsive.
The "Labor Only" move offered by Moving Connections is a cost saving option for budget minded customers who don't mind putting some sweat equity into their move.

This is how the Labor Only move works: You rent a truck for your residential move. Moving Connections' crew comes and professionally wraps, packs, and loads your items onto the truck. You drive the truck to your new destination and unload it there. This saves a lot of money because our crew has to spend approximately half the time that they would on a full service residential move. And you save proportionally.
When you're moving a business, you want a company that will give you a seamless transition to your new location. Whether this is done depends on the moving crews. So you don't want somebody who's going to hire inexperienced personnel from a temporary agency. But it could be worse: a moving company could hire employees as day labor out of a home improvement store parking lot where they're milling around holding cardboard signs asking for employment. This could lead to a lot of nightmares.

That's why Moving Connections hires only experienced moving personnel. And we're federally licensed, bonded, and insured.

Besides that, Moving Connections has been moving corporations and small offices, families and individuals, for more than three decades along the Wasatch Front. We have a proven track record in the moving business.
To get moving help for your next Syracuse move call 801. 532. 6683 or email Moving Connections at support@movingconnections.com