Moving Connections is a trusted Salt Lake City Mover serving businesses and residents in Salt Lake and across the State of Utah. Our movers are both experienced and friendly. We are customer focused professionals committed to satisfying the needs of every customer.
Residential And Office Movers

Use Moving Connections A "Local First" Best In Utah Moving Company
We pledge to do our very best to ensure that your move is a seamless transition to your new location. And since Moving Connections is a full service moving company, we provide a wide range of ancillary services, such as home staging, handyman services, and storage areas, both climate controlled and conventional.
We accommodate any last minute move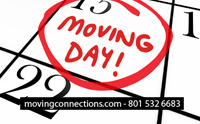 As soon as you have a firm moving date, call Moving Connections and get the gears moving so we can make your move a seamless transition to your new home.
In-Home Moving Services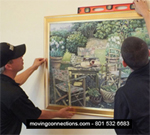 Our movers offer professional home staging.

Among Moving Connections' professional crews there are personnel experienced in staging homes that are being put up for sale.

Staging a home simply means that you leave a few items of furniture here and there plus some other items to make it look more like a home than an impersonal, empty box. This helps your home to sell more quickly and at a better price for you, the seller.

Staging makes the house look far more personal, plus it gives the potential buyer a much better idea of how the place would look when they move in their chairs, pictures, mirrors, window dressings, rugs, etc.,

Moving Connections is a full service moving company, so we do more than just loading trucks. For instance, we can stage your home, assemble children's playhouses, gazebos, elliptical machines, and trampolines, etc.



Helping Senior Citizens Relocate
One of our core values is dedication to Senior Citizens. Our movers treat everyone the way you would want your grandma treated. Our staff handles senior moving with extra care and compassion, and our goal is to make this transition as stress-free as possible.



Moving Connections: Pricing And Timing
FULL SERVICE MOVING
Our pricing is $98/hour in low season and $109/hour in high season for 2 professional movers, a full-sized moving truck, moving blankets, dollies, tools, & stretch wrap all included.
We run 3 moving crews which start from our 412 E 300 S, SLC store. Morning jobs start about 7:45 AM. Your time starts when we leave our office and ends when we unload the last piece off the truck. Said another way you pay to get us to you and we pay to get ourselves home.
* 4 hour min. charge in Summer, 3 hour min. in Fall and Spring, 2 hours in Winter.
LABOR ONLY
Our pricing is $85/hour* for 2 professional movers and dollies.
* 4 hour min. charge in Summer, 3 hour min. in Fall and Spring, 2 hours in Winter.
HOUSEHOLD AND OFFICE STORAGE AVAILABLE
Min monthly mtorage fee: $125 up to 10' x 10'
Up to three bedroom home: $240/month 10' x 20'
SUNDAY RATE
is $138/hour* for 2 movers and a 26 foot moving truck to cover the double time wage we pay the men for Sunday work.
* 4 hour min. charge in Summer, 3 hour min. in Fall and Spring, 2 hours in Winter.
Please note that you can change or cancel your move date without losing your deposit as long as you give us notice at least two business days before your scheduled move day.