Moving Connections is your professional moving company offering superior moving services and local movers in Layton, Utah
Layton Moving Services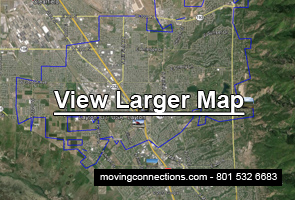 Layton Movers is who we are, Utah Moving is what we do
If you want to make the right move, then make your move with Moving Connections, Northern Utah's premier moving service local mover.
We can make this claim because we are an affordable moving company that has some of the lowest moving prices in Layton Utah.
Free Layton Moving Estimates
These days there are few moving companies that provide Free Moving Estimates and Moving Connections is one of them. Moving Connections' instant online moving quote is one of the most reliable and accurate. Filling out our quick online moving quote is easy and straight forward. Moving Connections instantly emails you an accurate Moving Estimate. Your moving quote is tailored specifically to your weight and location. And don't be confused about moving quote and moving estimate. Among moving companies moving quote and moving estimate are used almost interchangeably. Get Your Free And Instant Moving Estimate
Moving Connections offers the best local moving services in Layton UT with depandable and safe moving trucks and labor.
Residential And Office Movers in Layton, Utah
Although our most popular service is the full service move, residential or corporate, Moving Connections does offer a potentially cost-saving moving services known as "labor only moving help". Moving Connections allows you to hire moving help by the hour to load and unload your rental truck, POD, Uhauls and Penskes. The Moving Connections crew will also professionally wrap your furniture and other such items with stretch wrap and moving blankets for their protection.
Moving to Layton Utah: Get these free local moving resources

If Moving Connections is moving you to Layton it's a perfect time to begin to utilize the many moving resources and moving services of Layton. For example click on the picture to the left to go the Moving Connections 'Get moving help and support in Layton Utah' page and discover Layton for the first time.
Full Service Long-Distance Movers in Layton, Utah
Moving Connections is one of the best Long-Distance Moving Companies for moves in Utah and the Western US
To get moving help for your next Layton move call 801. 532. 6683
Moving to St George and other Utah destinations
Affordable Long-Distance Small Moves
Long-Distance Moving Throughout The Western United States
Movers in Utah cities along the Wasatch Front