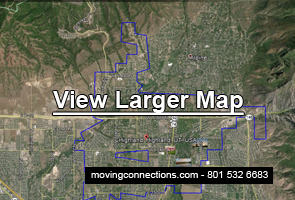 For those planning to move to or from Highland, there are many moving companies from which to choose. But making the selection of just one can be daunting. After all, moving isn't something that people do frequently. So they don't know what's important in booking a move with a moving company.
A good way to narrow down the field is to look at qualifications,professionalism, time in the business, and transparency in its practices.
Moving Connections is bonded and insured, and is federally licensed. So we are well qualified from that standpoint, since you don't need these items to do intrastate moves. But we feel it's important to be covered, so we have these qualifications.
Moving Connections, through its incentives, hires the best moving crew members only from among those who have substantial moving experience. This means that we field the best moving crews in the business. And that means efficiency and careful handling of your items, which translates into value. So we have elevated the bar of professionalism in the moving industry in Utah.
Moving Connections has been providing moving and ancillary services along the Wasatch Front for more than thirty years. We are well established in Utah and we're here to stay. So it's important to us to keep up the level of our moving service and it shows in our performance.
Moving Connections has unrivaled transparency and simplicity in its pricing formula: you pay for driving time and labor time, plus boxes and tape. There are no dolly fees, no fuel surcharges, no taxes, etc. Just time, tape, and boxes.
To get moving help for your next Highland move call 801. 532. 6683 or email Moving Connections at support@movingconnections.com