Best Rated Long-Distance Movers From California to Utah
Long distance Los Angeles to Salt Lake City movers. Let us be your Utah to Los Angeles, San Francisco, San Diego moving specialist. Salt Lake City movers at Moving Connections will help you plan, pack, move and unpack your California long distance move.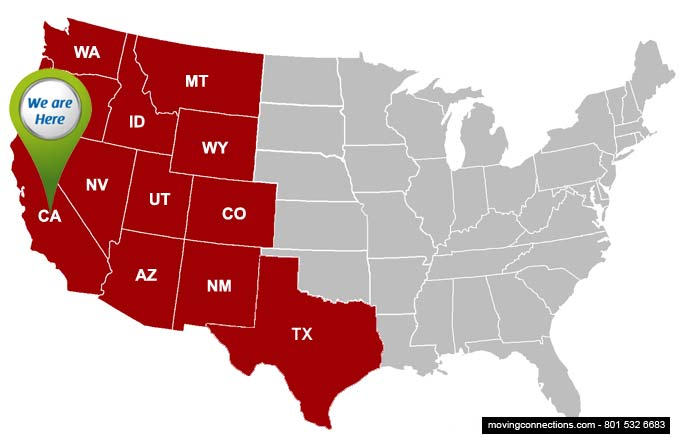 Moving Connections is one of the Top Rated Long-Distance Moving Companies in the Western United States. Moving Connections is a licensed Utah Moving Company located in Salt Lake City, Utah. Moving Connections does full service moves to & from Utah and California using its own 26 foot moving trucks and full time experienced movers.

Moving Connections also does labor only jobs throughout Utah whether you're using a POD, Uhaul, Penske or Trailer. Most Moving Companies will use their own local movers to load and unload their own moving vans, but Moving Connections will also use our own Utah Movers to help load and unload your moving truck, POD or Trailer. If you're thinking of moving from Utah to California, or vice versa, Moving Connections has you covered. Moving Connections, a Salt Lake City moving company, has been moving families and businesses throughout the West since 1981 and has developed a reputation for providing the best moving service possible at the best price in the State.

See below how Moving Company Moving Connections handles the moving logistics and timing of your move: Moving Connections can often complete your Utah to California move within 3 days.


Day 1. Our Salt Lake City based movers will show up at your Utah apt, home or storage unit and load your household belongings into Moving Connections' 26 foot moving truck, and stay the night in Salt Lake City, Utah.
Day 2. Moving Connections movers will start their drive from Salt Lake City to California usually before 5 am.
Day 3. Moving Connections unloads its moving truck into your California apt, home or storage unit.
Select this
Utah to California Moving Quote
link to get your Get An Instant Moving Quote with one of the best Moving Companies in the State, Moving Connections.
Moving Connections also has a Salt Lake City white glove moving service. Most Salt Lake City Moving Companies and in fact many Moving Companies in Utah and California do not offer local movers skilled in white glove moving services. Our white glove trained movers can structurally hang pictures and mirrors and mount TVs, assemble your beds tables and entertainment centers. Moving Connections will stage your household furniture and hook up your refrigerators, washers and dryers.
Best long distance moving company in Utah and California - Los Angeles and San Diego cross country movers
Are you moving to Los Angeles or San Diego but don't know which moving company to choose? One of the best moving companies with the most experienced California movers in the country is Moving Connections - top rated California interstate movers. If you decide to move to one of these fantastic cities, hire our cross country moving company. We can provide you with the best quality moving service for stress-free moving.
The most affordable moving company for long distance moving to and from Los Angeles and Southern California is the well-regarded Utah based mover Moving Connections. Long known for discount moving in the Western United States. Also, for your piece of mind ask about our time and price guarantees when using our long distance California movers. Voted one of the top rated Los Angeles moving companies ready to safely transport households and businesses from Los Angeles, California to everywhere in the Western United States including Utah, Texas, Oregon and Washington.
For example, Salt Lake City to San Diego, California is a 750 mile common Long Distance Move for Moving Connections. We are recognized as one of the top rated movers for this moving lane because we have taken all the guesswork and trial & errors out of your household move and made a science out of it. With your direction, we name the day we arrive and start packing and loading your belongings on our truck. We drive one day and on the 3rd day we are unloading at your San Diego California home with beds set up and your read for good night sleep!
For straightforward affordable pricing click on this instant relocation
quote link
to be taken to our moving quote engine, free and without obligation.
Long-Distance Moving Throughout The Western United States
Do-It-Yourself Long-Distance Moves Anywhere In The United States
Affordable Long-Distance Small Moves