Moving Connections is a professional moving company offering movers, moving services and moving help in St George, Utah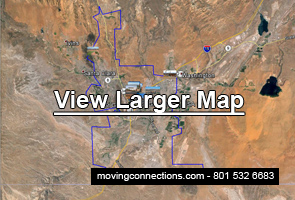 Whether you're moving to or from St. George, Moving Connections is the professional moving company that will provide you with the highest level of service available in the moving industry. We select our moving crews only from experienced professionals, so we can provide the safest and most efficient local moving experience
Although it does most of its work within the state of Utah, Moving Connections is federally licensed, bonded, and insured. That means peace of mind for you.
Residential Movers in St George, Utah
If you're looking for a seamless transition to your new residence, then give Moving Connections a call. We at Moving Connections offer the highest level of service in the moving industry. Selecting our personnel only from among those who have professional moving experience, we field the best moving crews in the business. If you add to that the fact that Moving Connections is federally licensed, bonded, and insured, you know that we are conforming to the highest standards in the moving industry.
Labor Only Movers in St George, Utah
If you're looking for a local moving company that will let you rent your own truck and do most of the packing yourself, Google "local moving companies in St. George, Utah". This option can save you money because you, the customer, do most of the packing of household goods, plus all of the driving to your new location. The moving company only provides a labor crew to expertly load these items onto your truck. In addition, they provide the essential service for wrapping and loading very large or fragile items, such as pianos, gun safes, and chandeliers.
Most moving companies will give you sound advice on how to package kitchen items and other somewhat fragile goods yourself, plus they will tell you what kinds of items might be hazardous or prohibited (especially across state lines, including fruits and other such things).
You should also check out insurance options on moves that you do yourself.
Get A Moving Quotes Online
These days there are few moving companies that provide Get A Moving Quotes and Moving Connections is one of them. Whether they are accurate or not, we don't know, but one thing is for sure - from all the options out there, Moving Connections' instant online moving quote is one of the most reliable and accurate. Filling out our quick online moving quote is easy and straight forward. Moving Connections instantely emails you an accurate Moving Estimate. Your moving quote is tailored specifically to your weight and location. And don't be confused about moving quote and moving estimate. Among moving companies moving quote and moving estimate are used almost interchangeably. Get Your Free Moving Estimate
Office Movers in St George, Utah
If you're contemplating a business move to or from St. George, please give Moving Connections your consideration.
Moving Connections handles every kind of business move from office transitions across the corridor or up one floor, to multi-day, multi-truck corporate relocations to other cities. Since we hire only experienced professional moving crews, you can relax knowing that they will handle your equipment, files, and furniture with utmost care.
Moving Connections is in business for real. As a businessperson yourself, you know how important that is. That's why we have a federal motor carrier number with a federal license. And we are bonded and insured according to federal regulations. That should give you peace of mind.
Moving Connections will give you top tier professional service, but it will do so with a smile. As professional and experienced as we are, we are still local and friendly.
To get moving help for your next St George move call 801. 532. 6683 or email Moving Connections at support@movingconnections.com