Movers in Draper, Utah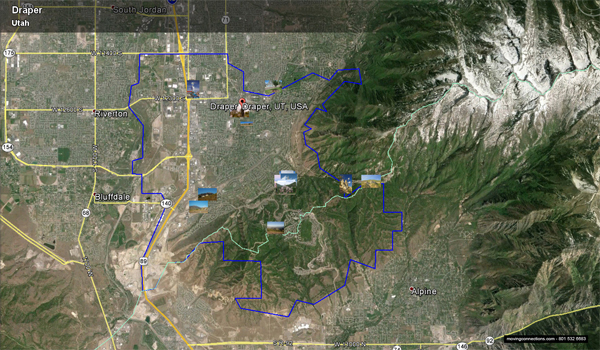 Use this map of Draper, Utah to find out if Moving Connections moves Offices and Households in your area.
To get moving help for your next Draper move call 801. 532. 6683 or email Moving Connections at support@movingconnections.com
Draper, Utah has the best of both worlds, the amenities and conveniences of city life plus the beauty and peace of a mountain wilderness area. So if you live in or near Draper, consider yourself fortunate.
We here at Moving Connections like to think of ourselves as your local Draper movers. We have been serving the Wasatch Front for 30 years and have come to know the needs of the local residents. We are located in the heart of Salt Lake City on the corner of 400 East and Broadway (300 South), in the Shipping Connections Plaza, a mini strip mall just behind the Greek Souvlaki restaurant.
If you're ever in the area, feel free to drop in and look around. In addition to having our offices there, we also have our sister companies: Carnections, offering car moving services all over the nation; Shipping Connections, our package shipping company offering UPS, FedEx, and US Postal Service Priority and Express Mail services both domestic and international, and; Web Weavers, our website creation company, offering front end design and back end database and functionality programming solutions. And, of course, you'll find us, Moving Connections in the same building.
You can check out our extensive line of high quality shipping boxes and talk to Paul, our manager, about any shipping needs you have. He's also an expert at packaging and can help you with questions about such things as fragile packing paintings, etc. As a top 100 nationally ranked shipper with both FedEx and UPS for more than a decade, Paul has accumulated a lot of knowledge and is happy to share it with you.
If you need a lot of packaging supplies and want to get a good price on them, Shipping Connections is the place to be. We have the highest quality packaging goods and we offer deep cuts in price for bulk purchases, whether it be a 250' roll of bubble wrap or a 5' bag of foam packing peanuts. Of course, we have hundreds of other products including a line of more than 100 different size and shape boxes, tape dispensers, boxes of tape, and many other items for your shipping and moving needs.
So feel free to drop in and chat with us, and if you're feeling hungry, just leave your car where it's parked and walk a few steps to the Greek Souvlaki and feast on some excellent Mediterranean food served by their cheerful staff.