Best Rated Long-Distance Movers To And From Utah And Colorado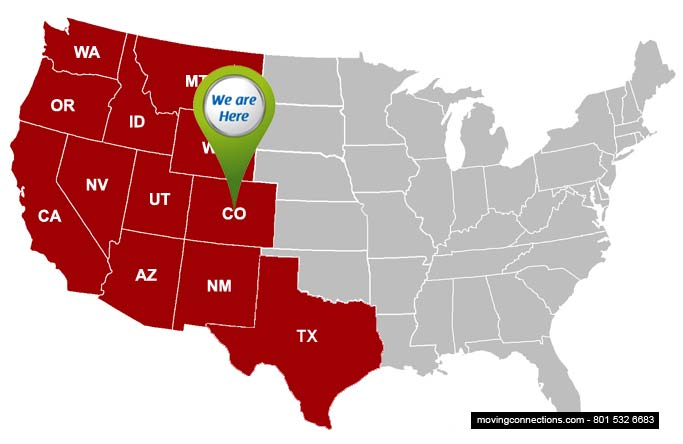 Moving Connections is the Top Long-Distance Moving Company in the Western United States. Moving Connections is a licensed Utah Moving Company located in Salt Lake City, Utah. Moving Connections does full service moves to & from Utah and Colorado using its own 26 foot moving trucks and full time experienced movers.

Moving Connections also does labor only jobs throughout Utah whether you're using a POD, Uhaul, Penske or Trailer. Most Moving Companies will use their own local movers to load and unload their own moving vans, but Moving Connections will also use our own Utah Movers to help load and unload your moving truck, POD or Trailer. If you're thinking of moving from Utah to Colorado, or vice versa, Moving Connections has you covered. Moving Connections, a Salt Lake City moving company, has been moving families and businesses throughout the West since 1981 and has developed a reputation for providing the best moving service possible at the best price in the State.

See below how Moving Connections handles the moving logistics and timing of your move: Moving Connections can often complete your Utah to Colorado move within 3 days.


Day 1. Our Salt Lake City based movers will show up at your Utah apt, home or storage unit and load your household belongings into Moving Connections' 26 foot moving truck, and stay the night in Salt Lake City, Utah.
Day 2. Moving Connections movers will start their drive from Salt Lake City to Colorado usually before 5 am.
Day 3. Moving Connections unloads its moving truck into your Colorado apt, home or storage unit.
Select this
Utah to Colorado Moving Quote
link to get your Get A Moving Quote with one of the best Moving Companies in the State, Moving Connections.
Moving Connections also has a Salt Lake City white glove moving service. Most Salt Lake City Moving Companies and in fact many Moving Companies in Utah and Colorado do not offer local movers skilled in white glove moving services. Our white glove trained movers can structurally hang pictures and mirrors and mount TVs, assemble your beds tables and entertainment centers. Moving Connections will stage your household furniture and hook up your refrigerators, washers and dryers.
Moving Connections strives to make every move a smooth transition to your new home. After all, if you're like most people, your life is complicated enough without having to concern yourself with the mundane details of moving. So we've honed our skills to accommodate those who expect a higher standard from the moving industry.
Moving Connections has been recognized as one of the top tier Utah Moving Services companies. Moving Connections hires only the very best professional movers, movers experienced in professionally wrapping, padding, and loading your prized possessions. Moving Connections offers the most straightforward pricing policy in the business. Just click on this
quote link
to be taken to our moving quote engine, free and without obligation.
Affordable Long-Distance Small Moves
Long-Distance Moving Throughout The Western United States