Best Rated Long-Distance Movers To And From Utah And Oregon
Long distance Portland movers. Let us be your Portland, Salem, Eugene moving specialist. Salt Lake City movers at Moving Connections will help you plan, pack, move and unpack your Portland long distance move.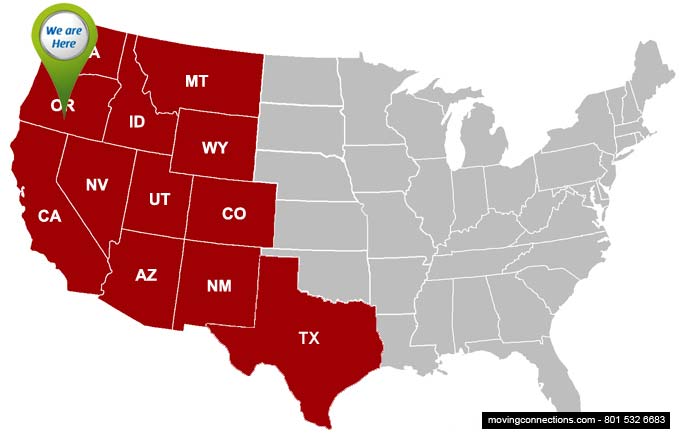 Moving Connections is one of the Top Rated Long-Distance Moving Companies in the Western United States. We are a licensed Utah Moving Company located in Salt Lake City, Utah. We do full service moves to & from Utah and Oregon using our own 26 foot moving trucks and full time experienced movers.

We have experience doing Salt Lake City moving to Eugene, OR and our Salt Lake City movers have done many full service moves to Salem, OR. So, whether you're using our moving company to get you to the Portland Metropolis with a large household move or to the dynamic University Town of Corvallis, OR where apartment moving is king, Moving Connections must be your 1st choice. Call (801) 532 - 6683 for your best Oregon move ever - Moving Connections.

If you're thinking of moving from Utah to Oregon, or vice versa, Moving Connections has you covered.

See below how Moving Connections handles the moving logistics and timing of your move: Moving Connections can often complete your Utah to Oregon move within 3 days.


Day 1. Our Salt Lake City based movers will show up at your Utah apt, home or storage unit and load your household belongings for your Oregon move into Moving Connections' 26 foot moving truck, and stay the night in Salt Lake City, Utah.
Day 2. Our movers will start their drive from Salt Lake City for your Salem, Eugene or Portland Oregon move usually before 5 am.
Day 3. We unload our moving truck into your Oregon apt, home or storage unit.
Best long distance moving company in Oregon - Portland and Salem cross country movers
Are you moving to Portland or Salem but don't know which moving company to choose? One of the best moving companies with the most experienced Oregon movers in the country is Moving Connections - top rated Oregon interstate movers. If you decide to move to one of these fantastic cities, hire our cross country moving company. We can provide you with the best quality moving service for stress-free moving.
The most affordable moving company for long distance moving to and from Portland and Oregon is the well-regarded Utah based mover Moving Connections. Long known for discount moving in the Western United States. Also, for your piece of mind ask about our time and price guarantees when using our long distance Oregon movers. Voted one of the top rated Oregon moving companies ready to safely transport households and businesses from Portland, Oregon to everywhere in the Western United States including Utah, Texas, California and Washington.
Select this instant
Utah to Oregon Moving Quote
link to get your Get An Instant Moving Quote with one of the best Moving Companies in the State, Moving Connections.
Long-Distance Moving Throughout The Western United States
Do-It-Yourself Long-Distance Moves Anywhere In The United States
Affordable Long-Distance Small Moves