Long Distance Movers
Moving Connections gives you Long Distance Moving options:
Full Service Long Distance Movers - Discount Door To Door Moves: Called "Shipping Connections' 1 And 2 Bedroom Small Moves." These are moves throughout the Western United States and usually cost between $1800-2800 depending on where you are moving and how big your move is. Often less than $2500!.
Long Distance Movers Small Moves in Utah and the Western U.S.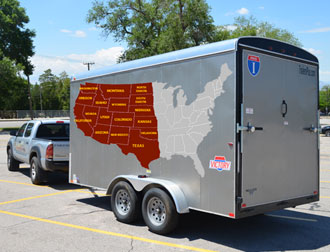 Moving Connections can provide the expertise to safely protect and load your valuable possessions and the muscle for those heavy items you just can't get on your own.
Moving Connections' partner Shipping Connections has always been our specialist in small moves. If you have less than 10 boxes or so Shipping Connections, an authorized shipper for UPS and FedEx, will send your boxes by UPS or FedEx ground. If you have more than 10 boxes and only a few pieces of small furniture Shipping Connections will paletize your items and freight them to your destination city.
If you have a studio apartment, or 1 or even 2 small bedroom apartment or small storage unit Shipping Connections will pickup your items at your origin and deliver, on your specified day, your items to you at your destination. We call this "Shipping Connections' 1 And 2 Bedroom Small Moves" throughout The Western United States. What's the big deal? The big deal is money and timing.
Ground shipping will cost in the hundreds. Pallet shipping will cost around a thousand. These "Shipping Connections' 1 And 2 Bedroom Small Moves" will often cost less than $2500 anywhere throughout the Western US. And we'll pick up your items on the specific day you request and deliver your items to your designated destination on the day you specify.
Moving Connections has partnered with Shipping Connections to bring prices down in long distance moving industry. We wanted to make state to state moving affordable for all of us on limited budgets. Moving Connections wants to be the "go-to" moving company for all small moves throughout the Western U.S.
When you think small moves, think Moving Connections!
Moving Estimate
Moving Connections: Long Distance Movers In The Following 10 States